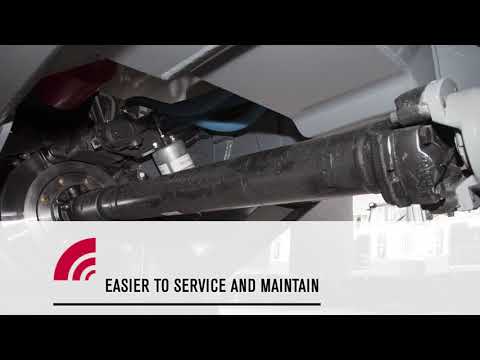 Rokbak Trucks

TA400
Articulated Trucks
Designed to meet the demands of the most extreme operations, the Rokbak Trucks TA400 articulated dump truck is a robust machine that excels in large-scale construction projects, quarries and mine sites. This high-capacity truck is a straightforward solution to the challenges faced at the toughest jobsites, delivering a heavy-duty, efficient performance in all conditions.
Features
Warranty and Maintenance Package - 3 Year/3,000 Hour Comprehensive Warranty that includes a schedule maintenance program - Power Train covered by a 3 Year 6,000 Hour Warranty

Haul Track - From your mobile phone or computer you can protect your truck from misuse and theft, and maximize your investment through remote performance management. You set the rules and the system makes sure your operator follows them.

Move more, burn less - Our lean burning engines help lower your cost of operation and meet EU Stage IV, US Tier-4 Final and Tier 2 compliance. EU Stage-IV/US Tier-4F compliance is achieved without DPF, lowering fuel and service costs. An engine exhaust brake is installed as standard for heightened levels of operational safety and control as well as reduced brake component wear.
Specifications
| | |
| --- | --- |
| Engine: | Scania DC13 |
| Gross Power: | 331 kw - 444 hp |
| Heaped Capacity: | 23.0 m3 - 30.3 yd3 |
| Steering: | Hydrostatic power steering - secondary steering via ground driven pump |
| Tires: | Standard 29.5x25 |
| Transmission: | Allison HD4560 with integral retarder mounted directly to the engine |
| Weight: | 38,000 kg - 70,340 Lbs |
Links
Features

Features

Warranty and Maintenance Package - 3 Year/3,000 Hour Comprehensive Warranty that includes a schedule maintenance program - Power Train covered by a 3 Year 6,000 Hour Warranty

Haul Track - From your mobile phone or computer you can protect your truck from misuse and theft, and maximize your investment through remote performance management. You set the rules and the system makes sure your operator follows them.

Move more, burn less - Our lean burning engines help lower your cost of operation and meet EU Stage IV, US Tier-4 Final and Tier 2 compliance. EU Stage-IV/US Tier-4F compliance is achieved without DPF, lowering fuel and service costs. An engine exhaust brake is installed as standard for heightened levels of operational safety and control as well as reduced brake component wear.

Specifications

Specifications

| | |
| --- | --- |
| Engine: | Scania DC13 |
| Gross Power: | 331 kw - 444 hp |
| Heaped Capacity: | 23.0 m3 - 30.3 yd3 |
| Steering: | Hydrostatic power steering - secondary steering via ground driven pump |
| Tires: | Standard 29.5x25 |
| Transmission: | Allison HD4560 with integral retarder mounted directly to the engine |
| Weight: | 38,000 kg - 70,340 Lbs |